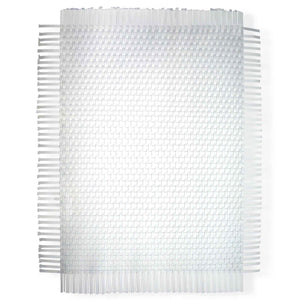 It works for portrait or landscape images. You can preview, resize, crop and rotate to your liking before ordering. Please upload your high resolution photo to preview.
* Photo needs to be at a minimum size of 2000 x 2000 pixels to print properly. A mobile phone picture that was not zoomed in works great.
*** Please note. Photos will be printed in black and white. If you rather have it as you uploaded it, please let me know in the comments.
• Hand woven by Fernando's brother Marcelo.
• Museum quality materials.
• Matte Black and White.
• Signed and vintage stamped on back.
• Includes Certificate of Authenticity.
• Framing available. Just Add to Cart for frame choices.
• Made to order. Ships within 3 weeks.
NOTES
* Each Woven Photograph is as unique as a fingerprint. Images are for reference only and may not be associated with each woven photograph. 
* Photo Wovens larger than 16" x 20" are woven in sections. Learn more.
* Custom sizes? Please email me.
What is a Woven Photograph?
Our Woven Photographs, Photo Wovens or Photo Weaves, as they are called, are made from two identical Giclee prints. The prints are cut in very thin strips and weaved back together adding complexity, texture, drama and relief, inviting the viewer into a memorable experience. Each piece, from cutting to weaving is completely hand made by Marcelo, following Fernando's vision. Differences in strip width, alignment and traces of my weaving touch are expected and desirable. Truly a one-of-a-kind artwork. See one in detail here.